MING Labs Case Study: Asian Development Bank – Tech For Impact
ADB: Sustainable development
How we created a digital media about sustainable development in Asia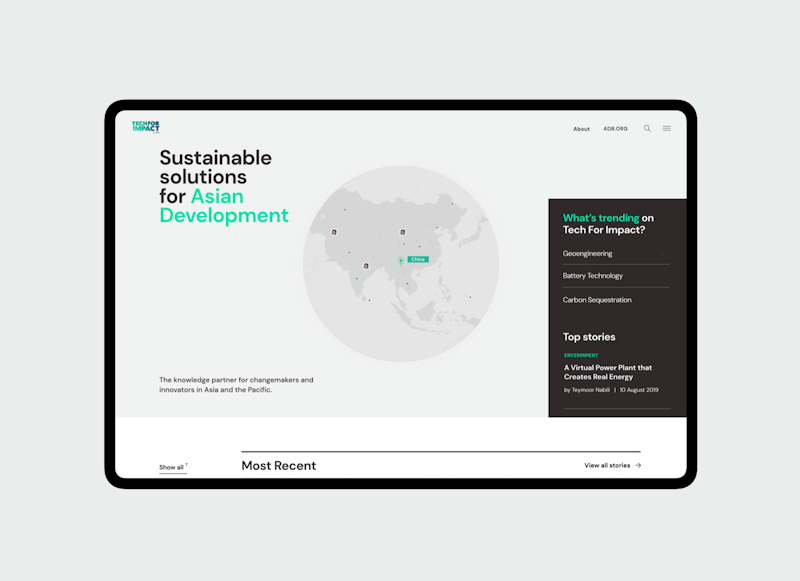 Promote ADB's expertise and initiatives in sustainable development projects
Website live on techforimpact.asia. 15 Impact stories posted in the first quarter since launch and many more to come. It did also result in further business for us and our client. ADB was also inspired by our approach, which helped their organisational capability development.
Discovery, research, UX/UI design, web development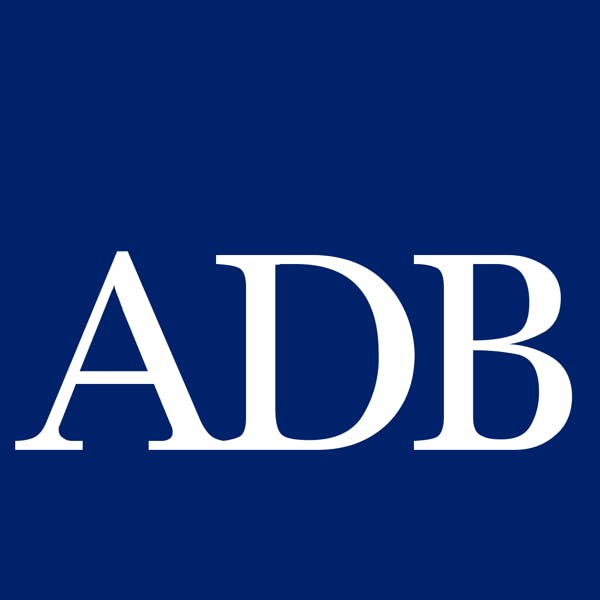 ADB (Asian Development Bank) is a Japanese bank that funds big development projects in Asia like highways, metros and other kinds of infrastructure development, providing loans to various governments. Their major competitor is the Chinese AIIB (Asian Infrastructure Investment Bank). 
ADB wanted to offer something their competition didn't, and their bet was on becoming a more human, more approachable, less bureaucratic organization. The ADB's president's agenda was using new tech to run the business in a more efficient way, involving digital transformation and innovation to improve the processes overall. They acknowledged that the process of getting a loan is a very slow one, involving a lot of complicatedwith 1,000+ pages applications paperwork, and that they needed to do better.
Stories someone will actually read
The starting point for this project was McKinsey's 100-page "Asia Development Report", which acts as a summary of development progress in Asia. ADB realized that it's too academic, too long, that nobody really reads it and that they need to do better.
The audience that ADB needed to reach is a very special one: namely, government officials all across Asia. To reach them, ADB decided to move to storytelling: away from reports, to the actual stories behind the development, covering the projects' impact on people's lives, showing who the people behind various projects are. A related idea was to establish a community around sustainable development projects — solar farms, low-carb tech, and so on.
We started with a four-week discovery sprint, conducting various workshops and interviews to better understand who the people are we're talking to, what their business objectives are, and so on. During this sprint, we created an interactive design prototypebuilt in Figma of the website that would later become Tech For Impact.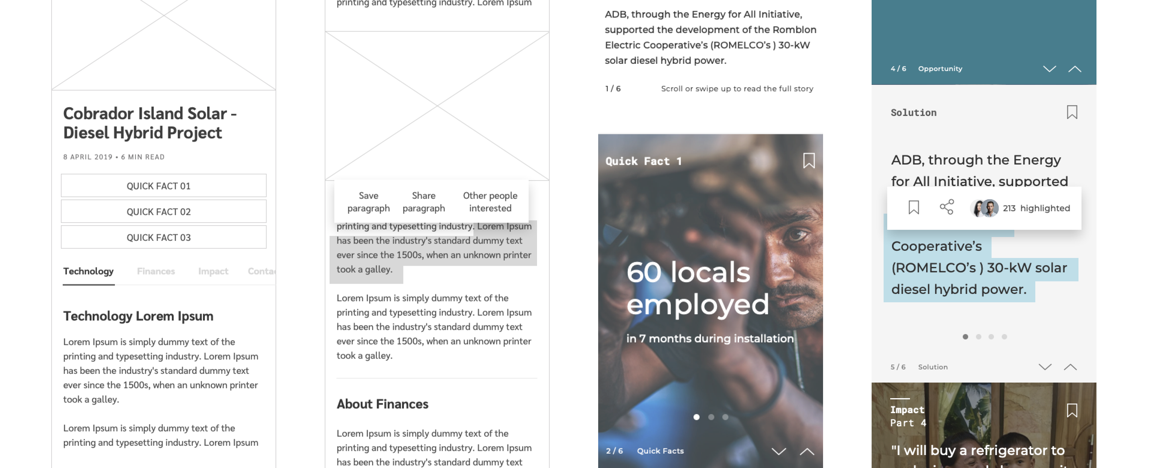 The website displayed different storytelling formats, from feature articles and blog posts to video, as well as various community features. One of the objectives was not only one-directionally talking to people but also interactivity, such as events, webinars, etc. — overall, forming a community and starting a conversation about sustainable development.
For testing purposes, we were introduced to government employees from Indonesia, Myanmar, Mongolia, Vietnam. We showed them the prototype and interviewed them, learning about their habits and requirements, which contributed to the overall product spec. For example, we learned that, contrary to our expectations, most of our target audience was using desktop browsers, not mobile.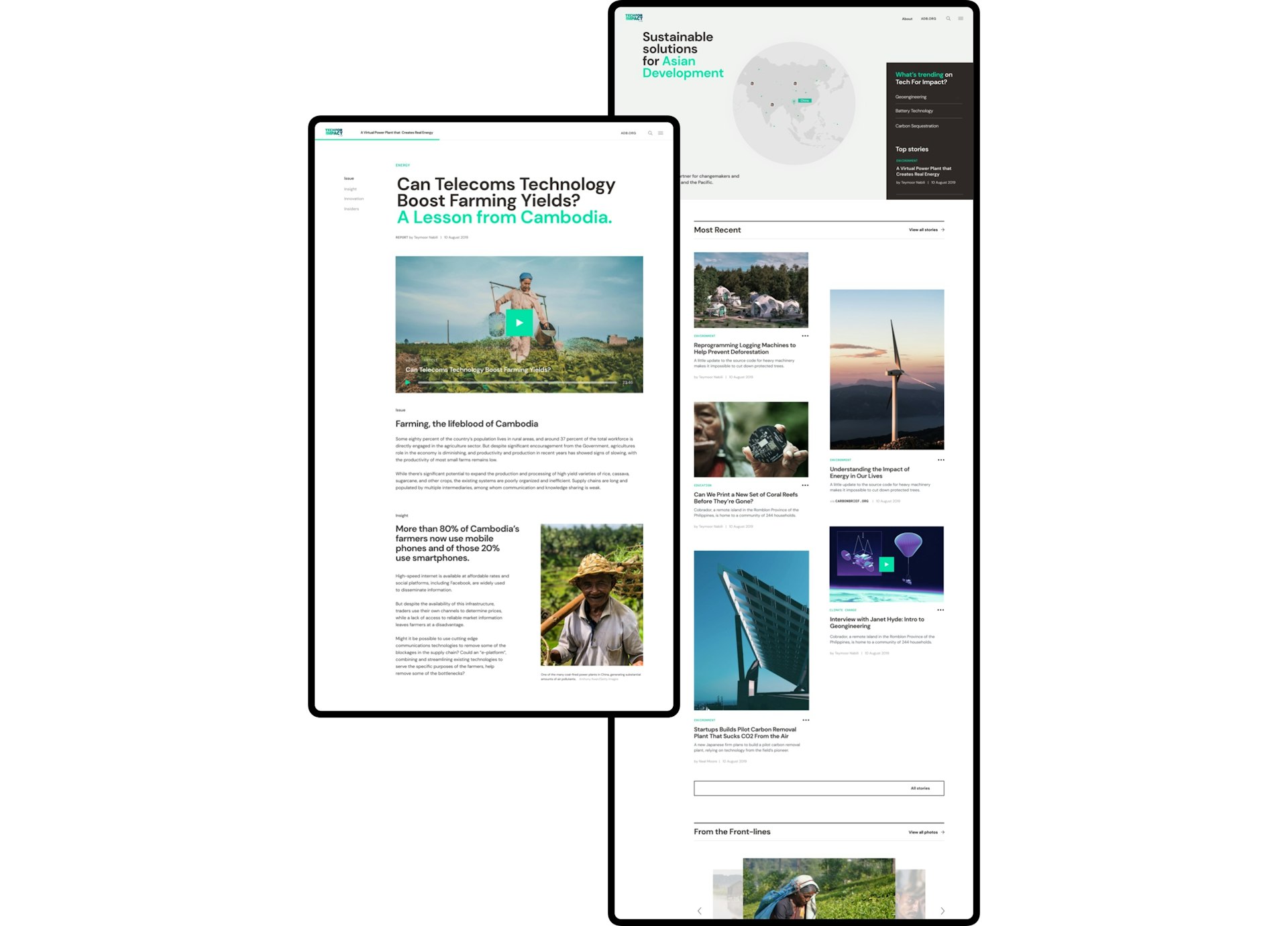 Digital interfaces of Asian Development Bank online platform 'Tech For Impact' showing articles and photos on sustainability
Then we defined the MVP, wrote user stories and moved to three-month production phase: design, back end and front end. Another team handled the production of all materials for the website:
Featured stories: particular ADB projects, videography, storytelling, figures, ROI, big pieces
Podcast: different types of people from the sustainable development community
Smaller pieces
The process of discovery-driven product development with quick experimentation and regular iteration was completely new to ADB. They'd never done that before, they never talked to users, and they liked working in this new way, a lot. We got a lot of enthusiastic responses. 
Collaboration with media production units was something we'd never done, as we rarely find ourselves in the media business. We set up the project pipeline in such a way that while the website was under development, the content team could already produce the stories for the website.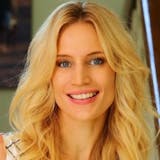 Susann Roth
Principal Knowledge Sharing and Services Specialist, ADB

"MING Labs was an important partner in the ideation of our Tech For Impact project. MING Labs was responsive and reminded us of the importance of user-centric design, testing and iteration."
ADB: Susann Roth — principal knowledge sharing and services specialist; Neal Moore, Teymoor Nabili — content producers and consultants; MING Labs: Sebastian Mueller — chief operating officer; Jason Rungassamy — project lead (singapore); Dina Tagabergenova — business designer; Dionne Lim, Jian He, Martina Maitan, Siying Ong — UX designers.